5 takeaways from the epa's interim wastewater discharge permitting strategy for pfas
The EPA continues to make progress on the PFAS Action Plan they released in 2019. Their most recent action is a memorandum detailing an interim strategy for controlling PFAS through wastewater discharge permitting. In this post, we'll break this announcement down into what you need to know.
#1 The interim memo is a recommendation only.
The EPA memorandum includes recommendations from a workgroup established in February of 2020. The details of the final plan are subject to change.
#2 The EPA has yet to release a validated test method for non-potable water.
Before acting on the workgroup's recommendations, the EPA needs to release a validated test method for non-potable water. They are working on one, and it is expected to be validated and finalized sometime in 2021.
#3 The proposed action has a limited scope.
The scope of those impacted by the recommendations, should they be made final, is fairly limited. At least initially.
First, the EPA's interim plan only applies to those states and territories that rely on the EPA to manage their wastewater discharge permitting program. This includes Massachusetts, New Hampshire, New Mexico, the District of Columbia, and most U.S. territories, including tribal lands.
Within that narrowly defined group, the workgroup is recommending revisions to the discharge permitting strategy for two main subgroups: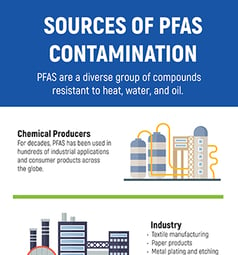 Industrial sewer system operators – Again, in areas where EPA is currently the permitting authority, the workgroup recommends implementing PFAS monitoring requirements and other controls where PFAS are expected to be present. In the memo, the EPA isn't specific as to how they will determine the likelihood of the presence of PFAS, but we expect their efforts to be focused on businesses producing PFAS chemicals and those using PFAS in their production processes that may contribute to wastewater and/or stormwater discharge to the nation's water. Learn more about common sources of PFAS contamination.
Municipal sewer system operators – The recommendations also cover municipal wastewater and stormwater systems if, again, PFAS contamination is expected. One likely scenario would be instances where industrial wastewater contaminated with PFAS is routed through the municipal wastewater treatment plant. Learn more about the PFAS/wastewater connection.
#4 Changes to the EPA's wastewater discharge permitting processes may impact organizations outside of the initial scope of the memo.
Industrial environmental compliance managers, wastewater treatment plant operators, and municipal officials outside of the scope of the interim memo should keep an eye on the progress of the EPA's new strategy. Other states will likely follow the EPA's lead and enact similar discharge permitting rules once a validated test method for analyzing PFAS in non-potable water is finalized.
#5 Several additional PFAS are included in the proposed plan.
The test method being validated by the EPA for non-potable water includes 40 compounds. You can see the full list on the EPA's website. EPA's three final test methods for drinking water cover far fewer – 29 between EPA 533, 537.1, and 537 v.1.1. The DoD's QSM B-15 with Isotope Dilution for aqueous matrices covers only 25 compounds.
Also, interesting to note is that the test method being validated under the interim memo covers more compounds than EPA 8327 which is still in draft form and was developed for non-potable waters. Here are the additional compounds added:
| | | |
| --- | --- | --- |
| Abbreviation | Compound Name | CAS# |
| PFDoS | Perfluorododecanesulfonic acid | 79780-39-5 |
| NMeFOSA | N-Methylperfluorooctanesulfonamide | 31506-32-8 |
| NEtFOSA | N-Ethylperfluorooctanesulfonamide | 4151-50-2 |
| NMeFOSE | N-Methylperfluorooctanesulfonamidoethanol | 24448-09-7 |
| NEtFOSE | N-Ethylperfluorooctanesulfonamidoethanol | 1691-99-2 |
| HFPO-DA | Hexafluoropropylene oxide dimer acid | 13252-13-6 |
| DONA | 4,8-dioxa-3H-perfluorononanoic acid | 919005-14-4 |
| 9Cl-PF3ONS | 9-chlorohexadecafluoro-3-oxanonane-1-sulfonic acid | 756426-58-1 |
| 11Cl-PF3OUdS | 11-chloroeicosafluoro-3-oxaundecane-1-sulfonic acid | 763051-92-9 |
| 3:3 FTCA | 2H, 2H, 3H, 3H-perfluorohexanoic acid | 356-02-5 |
| 5:3 FTCA | 2H, 2H, 3H, 3H-perfluorooctanoic acid | 914637-49-3 |
| 7:3 FTCA | 2H, 2H, 3H, 3H-perfluorodecanoic acid | 812-70-4 |
| NFDHA | Perfluoro-3,6-dioxaheptanoic acid | 151772-58-6 |
| PFEESA | Perfluoro(2-ethoxyethane) sulfonic acid | 113507-82-7 |
| PFMPA | Perfluoro-3-methoxypropanoic acid | 377-73-1 |
| PFMBA | Perfluoro-4-methoxybutanoic acid | 863090-89-5 |
The memo does not add details on how the additional PFAS were selected, but most of these additional PFAS compounds are monitored or regulated by at least one state. (per the ITRC's soil and water value table as of October 2020) The three that aren't are 3:3 FTCA, 5:3 FTCA, and 7:3 FTCA. However, California Water Boards included these three compounds in General ORDER WQ 2019-0005-DWQ issued in 2019 as "recommended" PFAS compounds to monitor.
Should you get a jump on wastewater discharge monitoring?
As noted earlier, the workgroup's recommendations cannot be implemented until the new EPA test method for non-potable water is finalized. Pace Analytical® has developed modified test methods that can be used for non-potable water that reliably report down to the single digit ppt or ug/L level. When the new method is finalized by EPA, Pace will immediately implement it.
So, the question for entities impacted by the EPA's interim strategy, or for entities in other states that may be influenced to act in conjunction with EPA, is whether or not they should wait until the EPA finalizes the new test method for analyzing PFAS in wastewater to begin monitoring their wastewater discharge.
I can't provide an answer for you as that's a question each organization needs to consider within the confines of their own unique context. However, I can tell you that we have many wastewater treatment plants, municipalities, and industrial dischargers that are already working with Pace Analytical to help them assess their risks and prepare a plan of action for when the EPA's plan becomes enforceable or when their state (some, such as MI, already have) implements changes to their own wastewater discharge permitting requirements.
Our environmental services team would be happy to answer any questions you have about monitoring wastewater for PFAS. Reach out to us for a consultation.