The world of PFAS contamination, testing, and regulation has been moving forward at breakneck speed as the U.S. EPA continues to implement its PFAS Strategic Roadmap for 2021-2024. To help Pace® customers stay up to date, we're compiling the latest news and developments we think should be on everyone's radar.
Want Pace® News and Views delivered to your inbox? Subscribe here.
The FDA Delves into PFAS in Food Packaging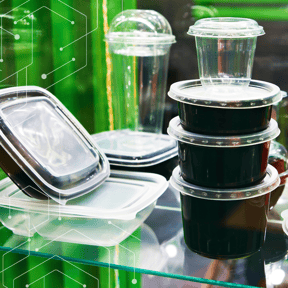 PFAS in food packaging has received some attention from the U.S. EPA, but it's been even more hotly debated at the state level as multiple states have passed or proposed bills limiting PFAS in packaging. Now, the U.S. FDA has jumped into the arena, seeking more information about PFAS in food packaging and the ease with which the chemicals migrate from the packaging to the food itself. No doubt, this is just the beginning of an intensive investigation and heated discussions over regulating PFAS in food packaging. The FDA may be a new participant in the discussion, but they are not insignificant by any means.
NDAA 2023 Passes House with Focus on PFAS
Once again, the latest National Defense Authorization Act (NDAA) has a significant focus on PFAS reporting and remediation efforts by the U.S. Military. Passed by the House on July 14th, the latest bill requires the DOD to report on destruction methods other than incineration, sources of PFAS contamination at military sites, and the progress made by the department to replace PFAS in firefighting foam for military applications. As noted by JDSupra, "if and when this legislation is passed, the government sector, private sector, and the military will be engaged for years to come in extensive and costly remediation efforts nationwide."
One More PFAS Added to TRI Reporting Requirements
In January, the U.S. EPA proposed adding four more PFAS to the Toxic Release Inventory (TRI) reporting requirements for reporting year 2022. This brought the number of PFAS covered under TRI up to 180. However, the final rule, issued on July 18th, automatically added one more compound (CASRN 65104-45-2) as the chemical was part of a significant new use rule (SNUR). The number of PFAS included in TRI now stands at 181. Here's a link to the final rule in the federal register.
EPA May Reopen RCRA and CERCLA Cases
In its 2021-2024 PFAS Strategic Roadmap, the U.S. EPA declared its intention to designate PFOA and PFOS as "hazardous substances" under CERCLA (The Comprehensive Environmental Response, Compensation, and Liability Act). As explained in this JD Supra article, this action may trigger the reopening of RCRA and CERCLA cases, even after claims have been settled.
GenX Health Advisory Challenged in Court
When the U.S. EPA lowered its health advisories for PFOA and PFOS from a parts-per-trillion (ppt) range to parts-per-quadrillion (ppq), the industry took notice. In fact, as soon as the announcement was made, I immediately started getting questions from Pace® customers about what these news levels meant to them. You can read my initial response here. We also did a short educational webinar to provide deeper insights. This webinar is now available on-demand.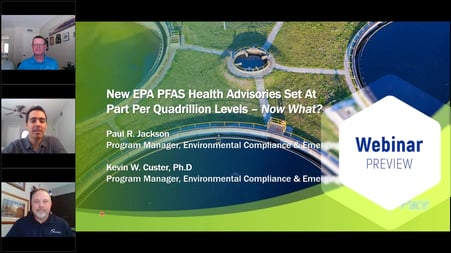 Watch: New EPA PFAS Health Advisories Set at Parts Per Quadrillion Levels – Now What?
While many have been focused on the dramatic lowering of the health advisories for PFOA and PFOS, the new health advisory for GenX is not without its detractors. Chemours, the manufacturer of the GenX compound, is challenging the new health advisory in court, calling it "arbitrary and capricious." It should be noted that GenX is the Chemours trade name for the actual compound, HPFO-Dimer Acid (HFPA-DA). As usual National Law review has a good, high-level summary of the case. It's definitely one to watch.
Could PFAS Testing Become Routine Medical Care?
If you've been to the doctor, you've probably seen those wall-charts listing the routine medical tests a person should undergo at different stages in their life. As reported in National Law Review, the National Academy of Sciences (NAS) is set to review their recommendations for PFAS testing to clinicians and physicians on July 28th. Right on schedule, the NAS posted a nearly 300-page ebook detailing their findings and recommendations.
While we haven't had a chance to comb through the NAS recommendations yet, it's clear they felt the public is/will start discussing PFAS exposure with their healthcare provider. Of course, all of this has liability ramifications as well. As NLR states in its article, "The findings by the NAS will have a significant impact on PFAS litigation, particularly personal injury litigation, for years to come."
Is PFAS the Next Asbestos?
It seems like more and more of the news we compile for this review has to do with PFAS litigation and less on the testing and remediation of PFAS contamination. There is some great work being done in testing and remediation, but the high-profile lawsuits grab the headlines, much the way asbestos did in the 1970s. In fact, in a July article, Risk & Insurance magazine compared the two scenarios and offered guidance for what manufacturers can do to protect themselves from liability.
The authors recommend "investigating PFAS content in current and past company products, formulations and purchased goods, including oil-, stain- and water-repellent materials, lubricants, coatings; identifying past handling and use of fluorinated fire-fighting foams both in training and any emergency incidents; reviewing off-site disposal of PFAS-containing wastes; and evaluating possible liability protections under contracts with suppliers of PFAS-containing materials."
Pace® can also help with your site assessments by providing analysis of wastewater, groundwater, soil, and other environmental matrices to determine the extent of any possible PFAS contamination. If you're unsure if a product contains PFAS, we can help with that too. To learn more, request a complimentary consultation with our team.