The world of PFAS contamination, testing, and regulation has been moving forward at breakneck speed as the U.S. EPA continues to implement its PFAS Strategic Roadmap for 2021-2024. To help Pace® customers stay up to date, we're compiling the latest news and developments we think should be on everyone's radar.
Want Pace® News and Views delivered to your inbox?
In our most recent News and Views post, we covered some of the actions happening at the federal level, including PFAS in Food Packaging, the 2023 NDAA, TRI, CERCLA, and more. There's plenty happening at the state level, too, so in this edition, we'll take a closer look at some state-level actions that are worth keeping an eye on.
States Clean Up
PFAS cleanup and site remediation is a frequent topic at the federal level, while states continue to issue their own guidance. Here's a rundown on some of the actions states are taking across the country.
Washington State: In July, the Washington State Department of Ecology issued non-binding cleanup guidance for groundwater and soil for PFOA, PFOS, PFNA, PFHxS, PFBS, and HFPO-DA (GenX). While these are non-binding levels, they provide a window into the agency's plans for future regulated cleanup levels. As noted in a recent JDSupra post, "entities responsible for ongoing or planned cleanups in Washington should consider how these recommendations will affect the timing and cost of their cleanups going forward. So, too, should entities who have already completed cleanups in Washington consider whether they may need to revisit those cleanups."
Florida: In June, Governor DeSantis of Florida signed CS/HB 1475, which requires the Florida Department of Environmental Protection to adopt rules for statewide cleanup target levels for PFAS in drinking water, groundwater, and soil if the U.S. EPA has not finalized its standards for PFAS in these matrices by January 1, 2025. The rules must be ratified by the state legislature before they go into effect. The bill does not delineate what those cleanup levels would be, but it puts Florida legislators on notice that this is an issue they may have to tackle in the near future.
Wisconsin: If you've been following the environmental news at all, you know that a battle over PFAS contamination and remediation is being waged in Wisconsin. Chemical manufacturers, including those that manufacture AFFF (Aqueous Film-Forming Foam), the Class B chemical fire-fighting foam, are in the middle of it all. While there are newer PFAS-free foams available, AFFF has a long shelf life and disposing of the foam can be costly and damaging to the environment. In July, the WI DNR put out a request for bids for a contractor that could help them collect and dispose of some 25,000 gallons of AFFF currently stockpiled in fire departments across the state.
Not sure if your foam contains PFAS? Pace® offers testing services for AFFF and other fire-fighting foams. Learn more.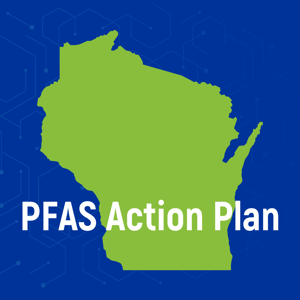 WI Releases PFAS Action Plan Progress Report
As just noted, PFAS is a hot topic in Wisconsin. On August 18th, the WI Department of Natural Resources released its PFAS Action Plan Progress Report. The Wisconsin DNR is also renewing its attempt to regulate PFAS in groundwater by adding PFOA, PFOS, PFBS, and GenX to the list of contaminants covered by the state's existing groundwater law. The next step is for the DNR to propose a rule, which must then be approved by the governor, the Natural Resources Board, and the legislature.
PFAS in Food Packaging
Last month, we reported that the FDA had waded into the issue of PFAS in food packaging. At this stage, the agency is seeking more information about PFAS in food packaging and the ease with which the chemicals migrate from the packaging to the food itself, so we're probably far from seeing any regulatory efforts from the FDA. However, that doesn't mean that states haven't picked up the ball and run with it. As reported in Waste Dive, ten states have laws related to PFAS in food packaging that are set to go into effect in the next couple of years:
New York – Law to take effect by the end of 2022

California, Connecticut, Hawaii, and Vermont – Laws to take effect in 2023

Colorado, Maryland, and Minnesota – Laws to take effect in 2024

Washington and Maine – Ban timelines to be set once PFAS-free packaging alternatives are identified
At the Federal Level
Though we've mainly focused on state actions in this post, a couple actions at the Federal Level are worth noting: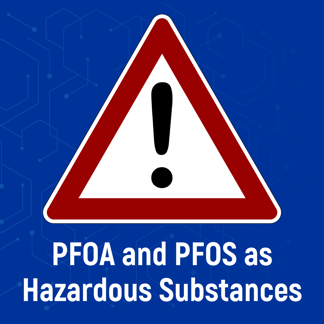 EPA Proposes Designating PFOA and PFOS as Hazardous Substances
The EPA signaled its intent to designate PFOA and PFOS as Hazardous Substances under CERCLA in the 2021-2024 PFAS Strategic Roadmap. On Friday, August 26th, they set that plan into motion by releasing a pre-publication notice of the proposal. The entry of the proposal into the Federal Register will kick off a 60-day public comment period.
EPA Announces Intent to Remove Reporting Exemption
Manufacturers that just use small amounts of certain PFAS in their products or during production may soon be required to comply with the EPA's TRI (Toxics Release Inventory) reporting requirements. In the agency's PFAS Strategic Roadmap, they announced plans to categorize all PFAS included in TRI as "Chemicals of Special Concern" and to remove the de minimus reporting requirements in 2022. As reported by National Law Review, a notice of intent sent to the White House Office of Management and Budget (OMB) on August 17th sets that plan in motion.
EPA Confirms PFAS Leached from Fluorinated Containers
Fluorinated plastic containers are commonly used in the chemical industry as they are sturdy, can help prevent accidental releases of hazardous chemicals, and retain odors and toxic fumes. However, when certain pesticides were found to contain PFAS, despite not being an intentionally added ingredient, it's been suspected that PFAS may have leached from fluorinated plastics. On August 12th, the EPA released the results of their study into the matter, confirming their suspicions.
Not all fluorinated plastics contain PFAS. Pace® PFAS testing services can help you determine if the products you produce or distribute are at risk. Learn more.
On-Demand Webinar
The ultra-low PFAS health advisories recently issued by the EPA created a wide range of reactions, from questions to consternation with a little bit of approbation mixed in. In this on-demand webinar, our PFAS experts share their insights on what these new advisories mean for industry and water professionals.