Behind the Scenes: Expanding Contract Manufacturing of Clinical Trial Materials

William Wittbold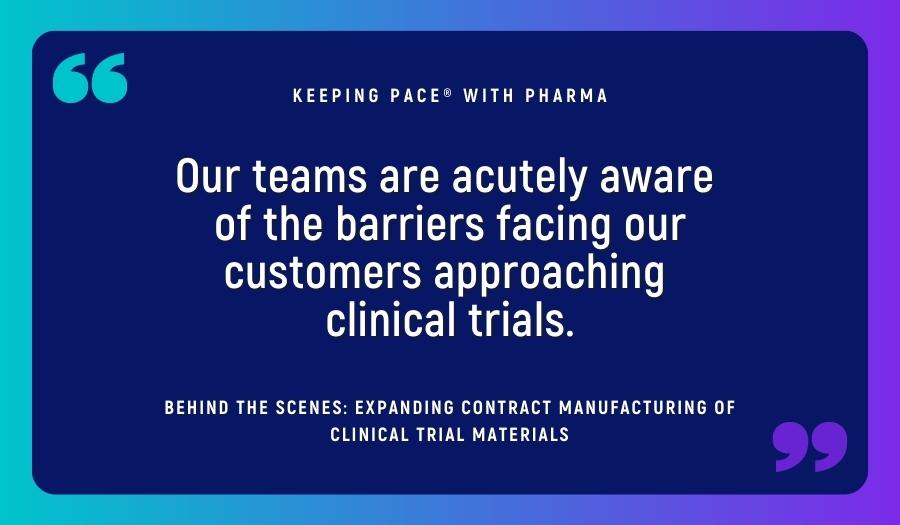 Completing a successful Investigational New Drug (IND) application is a considerable accomplishment, but often met with a new class of challenges. Many drug developers are challenged when seeking support to manufacture clinical trial materials, both internally and contracted. As target milestone dates approach, molecule complexity grows, and batch size requirements shift, it's important to find a partner that you can trust to handle the often-limited raw materials available.
Outsourcing to a contract manufacturing organization requires a highly detailed vetting process. With so many competing factors to keep in mind, your initial research should gather as much background on technical capabilities, relevant equipment capacity, and a company's commitment to advancing your program. To provide you with a head start, we are pulling back the curtain into what's happening at Pace® Life Sciences.
Our teams are acutely aware of the barriers facing our customers approaching clinical trials. To address these common limitations, Pace® Life Sciences has invested in strategic expansions at contract pharmaceutical manufacturing sites in the Boston-area and San Diego. By integrating these capabilities into our harmonized quality systems, we offer continued support as programs advance to commercialization, as well. Let's dig into the details of opportunities when you partner with Pace® Life Sciences.
Pace® Life Sciences - Salem
Our Salem site continues intentional investments to expand manufacturing support of Phase I, II and III clinical trial supplies with a focus on sterile fill-finish. Key investments include:
New manufacturing autoclave installation to upgrade current systems and offer greater processing power
New continuous monitoring system for stability chambers and storage areas
Expanded quality control (QC) capabilities through new HPLC and UPLC units to support additional methods
DEA license and holding cage to support molecules considered controlled substances
Advanced instrumentation cannot always be a justified cost for small companies, but your research may uncover a partner willing to allocate capital to satisfy your needs. Contract development and manufacturing organizations (CDMO) vary in capabilities and services, but you can trust our team offers support as more than just an outsourcing vendor. Rather, we strive to understand your current and future needs so we're able to better tailor our investments in emerging technologies.
Pace® Life Sciences – San Diego
On the West Coast, our San Diego site expands early stage clinical GMP manufacturing capabilities and pre-formulation development. The GMP manufacturing space consists of an ISO 7 cleanroom, built out receiving, quarantine, and release areas, an expanded QC lab, and improved visibility into the space. Whether you are evaluating your molecule's toxicology or entering Phase I of clinical trials, our support can fulfill your needs by leveraging investments spanning:
Full environmental monitoring abilities
Onsite quality assurance (QA) and project management
In-process, release, and stability testing
CA Food and Drug Branch (FDB) licensing
GMP sample storage
Our San Diego team supports projects across various biomolecule types including peptides, proteins, and oligonucleotides. In fact, 8,000 square feet of new research and development (R&D) space at this site allows greater capacity for pre-formulation development, and analytical method development, qualification, and testing starting in March 2023. The current space our San Diego team inhabits will be built out to support manufacturing projects at a greater scale.
Meet the Team
Our knowledgeable and committed leaders make the collaborative nature of Pace® Life Sciences possible by bringing our customer's challenges to the forefront and driving strategic expansions into reality. William Wittbold, Director – Site Lead in San Diego, and Jim Fraczek, Associate Director, Quality in Salem, NH helped support the expansion of these sites and provided summaries of the strategic investments for this blog.
William Wittbold is the Director – Site Lead for Pace® Life Sciences San Diego. His experience in the biopharmaceutical industry exceeds 20 years, spanning protein formulation, biophysical characterization, and application sciences. Before joining the team at Pace® his most recent position was as Director of Analytical Development and Laboratory Software at Ajinomoto BioPharma Services.
Jim Fraczek is an Associate Director, Quality of Pace® Life Sciences Salem. His experience in the pharmaceutical and medical device industry exceeds 20 years, spanning microbiology, process development, quality assurance and quality control. He joined Pace® through the acquisition of Bio-Concept Labs in 2020, where his work evolved across QA/QC and manufacturing.
To start the conversation and get connected with our experts, contact us!