OSHA's Proposed HazCom Implementation of GHS Revision 7

Steve Ernst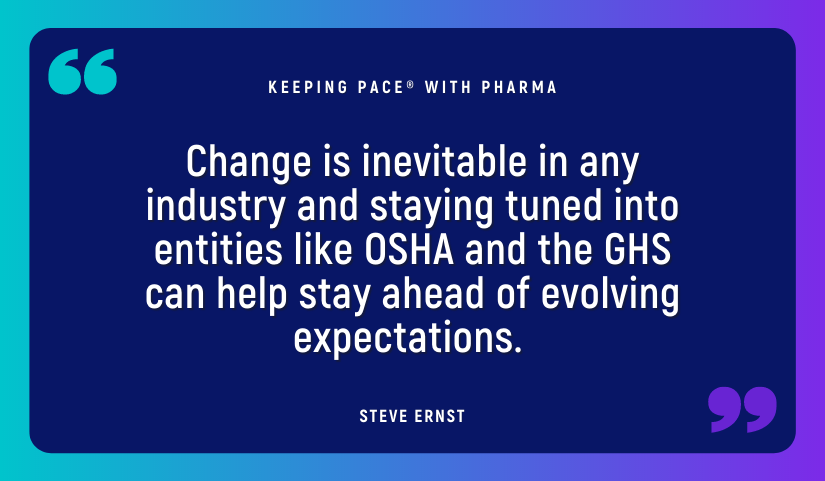 The Origin of the OSHA HazCom Standard
The US Occupational Safety and Health Administration Hazard Communication Standard (OSHA HCS or HazCom Standard) was first adopted in 1983. The HCS requires chemical manufacturers and importers to provide information about the identities and hazards of the substances and mixtures they produce and distribute, and to communicate that information on container labels and Safety Data Sheets (SDSs). Employers with hazardous chemicals in the workplace are also required to have a hazard communication program and provide training to workers on the appropriate handling and use of these chemicals. The standard initially applied only to employees in manufacturing workplaces but was later broadened in scope to include workers in all OSHA-covered workplaces.
In 2009, OSHA published a proposed rulemaking to align the HCS with the United Nations' Globally Harmonized System of Classification and Labeling of Chemicals (GHS). Then in 2012, OSHA updated the HCS to align with the 3rd Revision of the GHS. This update replaced the Material Safety Data Sheet (MSDS) with the standardized 16-section Safety Data Sheet, provided changes to labels, and aimed to improve worker protections by enhancing communication of chemical hazards in the workplace. Now a decade later, OSHA is looking to implement new rulemaking changes to align the HCS with GHS Revision 7, which leaves many in the position to implement long overdue updates. By transitioning from GHS Revision 3 to GHS Revision 7, there are numerous considerations for the revisions between those to keep in mind, as well.
How the GHS Lays a HazCom Foundation
The GHS is an internationally accepted system of hazard communication. Its intended purpose is to provide common, consistent criteria to define and classify physical, health, and environmental hazards of chemical substances and mixtures. This information is then conveyed through a set of standardized hazard communication elements. The system uses a harmonized format for SDSs and provides specific labeling criteria. The 1st Revision of the GHS was introduced in 2003, and the document has been updated by the UN Committee of Experts every 2 years since. As of 2022, the current edition is the 9th Revision, but yet another is expected to release in 2023.
While the UN GHS is not itself legally binding, over 70 countries worldwide have adopted some or all the parts, or "building blocks", of this system of hazard communication into their legal hazard communication systems. These building blocks correspond to different hazard classes and categories. This approach allows each country to choose what to implement in their local legislation, which can lead to regional variations. Many of the United States' major trading partners, including Canada, Australia, New Zealand, and the European Union, have already adopted or are working on aligning with the 7th Revision of the GHS.
As other nations incorporate the newest building blocks, each country's application of the GHS becomes more unique and widens the disparity of U.S. implementation. Consequently, regulatory affairs professionals are not only left the increasingly complex task of tracking and implementing factors such as differing definitions or phrases, but also tasked with accounting for how strictly regulators will enforce these expectations. Keeping up with these changes as they become available is pivotal to avoid falling behind. With OSHA expected to officially implement GHS Revision 7 into the HazCom Standard in 2023, now is the time to prepare programs for upcoming expectations.
Please note: The publication of this content was before OSHA's official implementation of GHS Revision 7.
In need of regulatory support?

Connect with our team

to get started.
Check out our Hazard Communication, Product Stewardship, and Material Data Management services.