On-Demand Webinar: PFAS Technical & Regulatory Update
PFAS (per-and polyfluoroalkyl substances) are a large, diverse group of manufactured compounds used in a variety of industries, including aerospace, automotive, apparel, food packaging, firefighting foams, non-stick coatings/cookware, wire, carpeting, metal plating, and more.

Recently, Pace Analytical® held several webinars highlighting the 2020 PFAS regulatory landscape and what municipalities need to know to navigate the challenges. In this post, we'll cover some of the highlights discussed.
Click here for our on-demand webinar.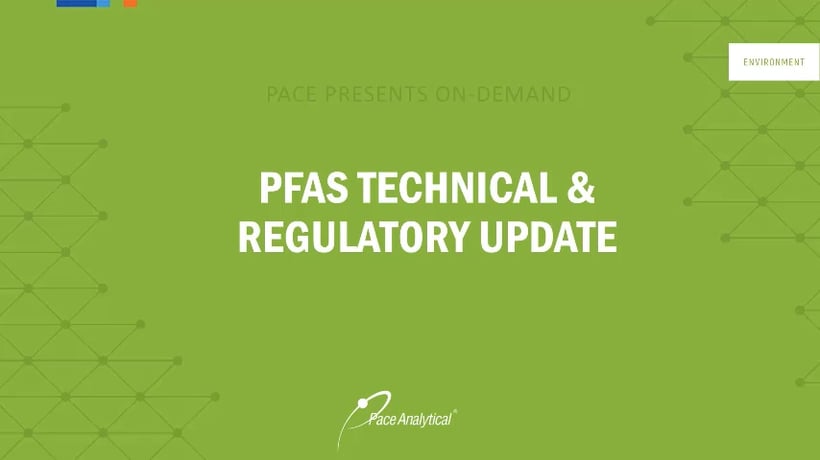 How Likely is PFAS Contamination in Your Community?
PFAS testing can be expensive, so nobody wants to do it if they don't have to. On the other hand, if there's reason to expect you might have PFAS contamination in your community, knowing about it can help you:
• Protect public health
• Prevent further contamination
• Defray the cost of remediation by understanding the source
• Avoid potentially costly lawsuits
To help you gauge the likelihood of PFAS contamination in your area, look for these common sources: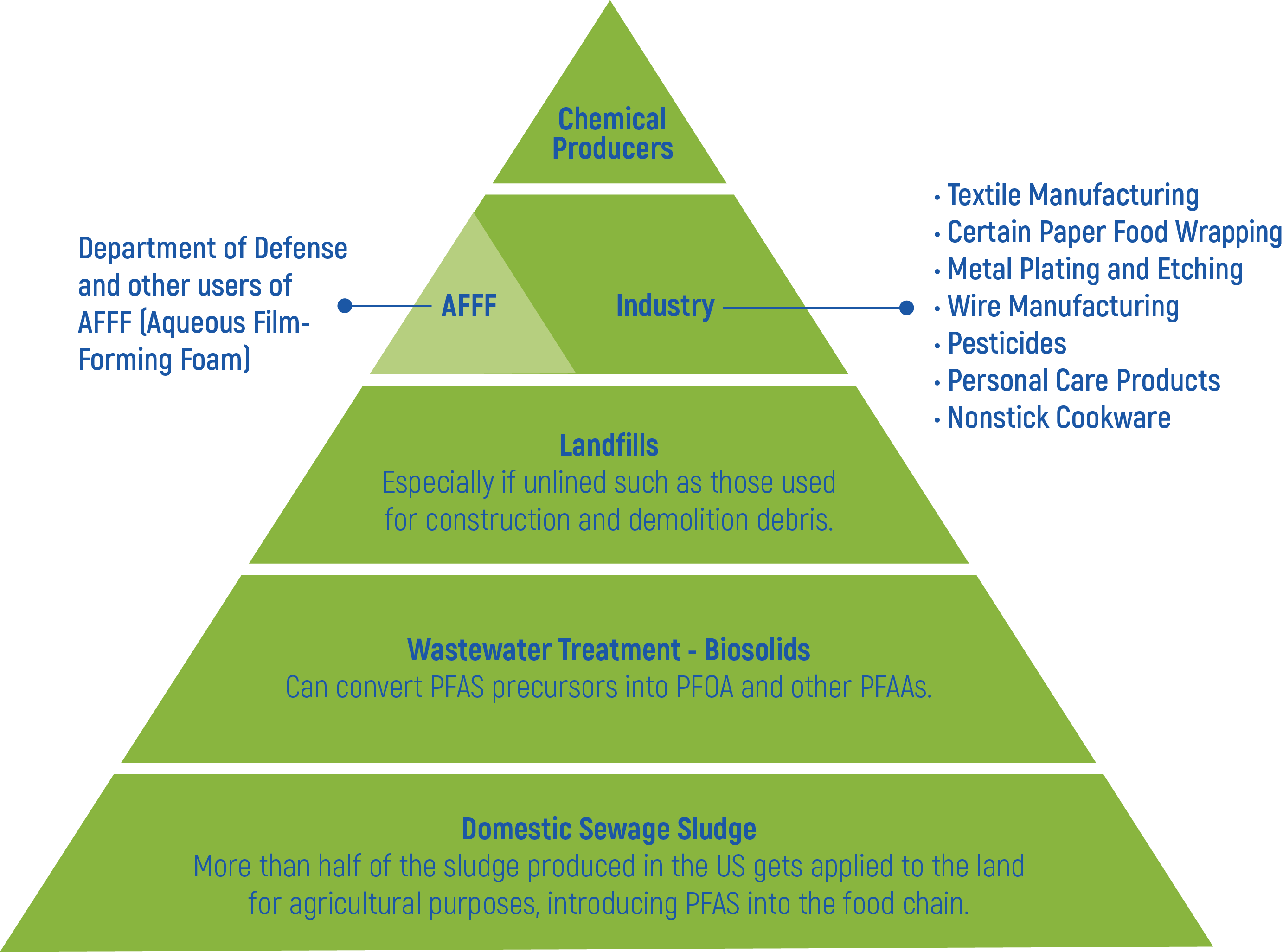 Chemical producers – These are the big names in chemical production. If you have any one of these in your backyard, chances are you have some level of PFAS contamination.

Manufacturing – Downstream from the chemical producers themselves are the manufacturers that produce products that use PFAS as a component. The heat-, water-, and oil-resistant properties of PFAS chemicals make them useful in the production of a variety of different consumer and commercial goods including:
•Textile manufacturing, including clothing, carpeting, and upholstery
• Paper food packaging
• Non-stick cookware
• Metal plating and etching
• Wire manufacturing
• Pesticides
• Cosmetics and personal care products
• Aqueous Film-Forming Foam (AFFF) for fire fighting
Wastewater treatment – If you have a PFAS contamination issue, conventional wastewater treatment will not address it. Furthermore, conventional methods can compound the problem by converting PFAS precursors into PFAS compounds like PFOA and PFOS. This is one of the reasons many wastewater treatment plants opt to test both influent and effluent.

Military installations and other facilities – Facilities that have used AFFF (aqueous film-forming foam) to fight fires are another source of PFAS contamination of water and soil. These include DoD, industry, airports, and fire-training sites. Even a modest-sized commercial airport can be a source of PFAS contamination if they've held firefighting exercises with PFAS-containing AFFF.

Municipal landfills – Since PFAS are unregulated, companies producing PFAS chemicals and manufacturers using them in their production environment have been disposing of contaminated waste from their facilities for decades. The same is true for consumers who have been using and disposing of products containing PFAS substances.

Most municipal landfills are lined and have leachate collection systems, so they aren't usually a direct source of contamination. However, their leachate is frequently sent to municipal wastewater treatment plants through which it can enter the water supply. In addition, municipalities should look closely at unlined construction and demolition landfills with no leachate collection systems.

Domestic sewage sludge – Sewage sludge is a byproduct of wastewater treatment, and in the U.S., more than half of this sludge is applied to agricultural land as biosolids. This transfers PFAS to the soil, and ultimately, to the food chain.
Are PFAS Chemicals Regulated at the Federal or State Level?
With all the attention paid to PFAS contamination, the regulatory environment is something of a Wild West show. Here's a quick run-down on the current status at each level:
Federal – Enforceable standards aren't likely to come from the EPA before 2023. The initial step is to propose limits and then allow for a public-comment period. Since we conducted the webinar, the EPA has already extended the comment period by 30 days for limits on two of the most-studied per- and polyfluoroalkyl substances (PFAS) after drinking water utilities said they needed more time to analyze the proposal.
Once the EPA makes a final determination, they are required to propose a rule within 24 months and promulgate a drinking water regulation within 18 months after that. The EPA may extend the deadline for up to nine months.
The U.S. House of Representatives attempted to speed up the process by passing H.R. 535 earlier this year. However, the bill faces stiff resistance from the Senate and the administration, which claims the bill would create considerable litigation risk, set problematic and unreasonable rulemaking timelines and precedents, and impose substantial, unwarranted costs on Federal, State, and local agencies and other key stakeholders in both the public and private sectors. The U.S. Senate is working on its own bills to speed up the EPA's progress.
In the meantime, we can expect the EPA to continue to release guidance. The EPA remains intent on studying more PFAS in the nation's public water systems and to lower limits further than it did in the third round of the Unregulated Contaminant Monitoring Rule (UCMR 3; 2013-2015), by adding another 23 to UCMR 5. UCMR 5 will take place 2023-2025 and is proposed to increase the number of water systems included in the study by over 5,000 systems.
State – That doesn't mean municipalities are off the hook for PFAS contamination as many states have issued their own guidance and enforceable regulations. Because these regulations change so frequently, any charts we create quickly become obsolete. The best reference is probably the Interstate Technology Regulatory Council (ITRC). They maintain a downloadable Excel file of current PFAS water and soil limits from state and federal agencies, and some international countries.
Pace Analytical® maintains certifications and accreditations in all states that offer or require them. For example, California has some of the most stringent regulations in the country. Pace has been supporting the statewide airport and landfill Investigatory Order (IO) 13267 in California since its inception. We're also certified to address all the PFAS Drinking Water requirements in the state.
DoD – The U.S. Department of Defense is also studying its use of PFAS and possible contamination at 651 DoD and National Guard installations. A progress report was released this past March.
Which PFAS Testing Methods Should You Use?
To date, the EPA has issued three final test methods, and they're all for analysis of drinking water. The first method approved by the EPA was 537 Version 1.1, which focused on 14 of the 5000+ possible PFAS compounds. Then, in November 2018, the EPA issued 537.1, which left 537 v.1.1 virtually unchanged except for the addition of four PFAS chemicals that replaced PFOA and PFOS when U.S. producers voluntarily stopped production of those compounds.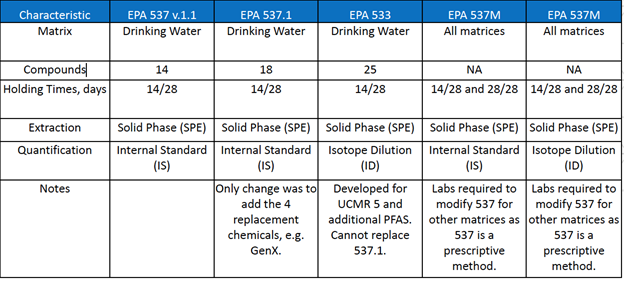 Figure 1 EPA PFAS Testing Methods
In November 2019, the EPA rolled out the third drinking water method 533 to expand the list of PFAS chemicals that it intends to include in UCMR 5. Method 533 doesn't replace 537.1 because some of the new contaminants can't be measured by 537.1. On the flip side, four of the 537.1 chemicals can't be measured by 533. If you're in a state that has made PFAS testing mandatory, 537.1 is currently the method of choice.
As drinking water methods are prescriptively written, they need to be modified for other matrices such wastewater, groundwater, leachate, and soil. Those methods are cited in the two columns on the right in Figure 1.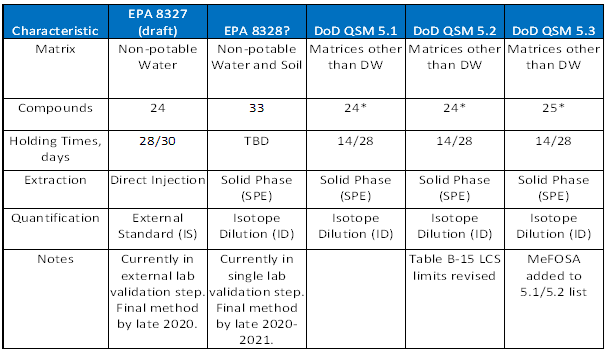 Figure 2 PFAS Testing Methods for Non-Potable Water and Other Matrices
The EPA has been developing SW-846 test methods for non-potable water and solid matrices for quite some time. Those are depicted in the left of Figure 2. These are not yet final, and the expectation is that they'll be finalized later this year and into 2021.
DoD has also issued its own methods for PFAS analysis, namely QSM 5.1, 5.2, and 5.3. These methods can be used for any matrix, but they cannot be cited for drinking water compliance reporting. They can also be used on civil projects without any modification, and compounds can be added or subtracted without citing a modification to the method. As written, they do not include the four replacement chemicals, e.g., GenX.
What's New at Pace?
This post just scratches the surface of what we discussed in our webinars. We encourage you to download the on-demand webinar if you're interested in more details.
While our primary focus in these webinars was PFAS contamination in drinking water, we had so many wastewater treatment plant operators in attendance that we ended up talking quite a bit about their concerns as well. Even so, we probably left just as many questions unanswered, so we're putting together a webinar specifically for those in wastewater treatment. If you'd like to be notified when those sessions are scheduled, please subscribe to our mailing list.
You're also welcome to reach out to us directly with any questions or to schedule a meeting with our environmental services team.