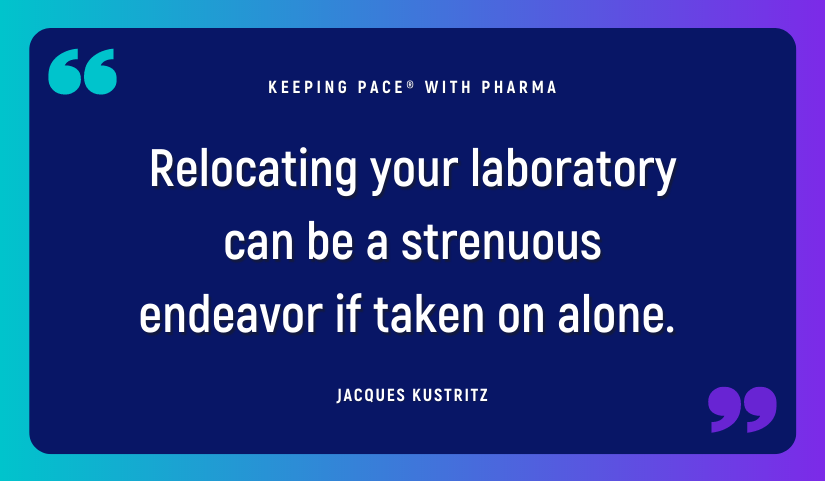 Relocating your laboratory can be a strenuous endeavor if taken on alone. Your lab is a central asset to your program's success and must be treated accordingly. Before entrusting this important task to your chosen partner, take the time to understand the process ahead and leave no box unchecked.
As soon as you know your destination location and schedule, it's time to get this process rolling. Be sure to kick off the project by documenting your equipment list and the corresponding regulatory requirements pertinent to your lab space and instruments. At this point you are ready to begin the following steps of your lab relocation.
STEP ONE Consult Key Stakeholders
To achieve critical timelines, develop clear plans, and garner accurate cost estimates, you can begin your venture by consulting key stakeholders. Determine who should be involved both internally and externally from management, IT, and quality assurance to contractors, Original Equipment Manufacturers (OEMs), and Independent Service Providers (ISPs).
When involving key stakeholders in the process, you should allow at minimum one to two months of lead time before you plan to start the moving process. Accounting for the extra time is well worth the wait to allow for the coordination of logistics, transportation, and any other services to ensure minimal downtime.
STEP TWO Assess Your Options
When assessing your options, a central factor shaping your approach is whether your lab can shut down completely for a single-phase move or if it must remain operational, requiring a multi-phase move. The productivity demands of a multi-phase lab move inevitably increase your relocation's complexity, which makes experienced partners crucial to minimize risks and delays.
Identifying outsourced partnership opportunities can lighten the load and offer specialized expertise to support a successful relocation project. Navigate initial conversations with potential partners efficiently by establishing expectations, communicating any specialized needs, and determining if an on-site walkthrough is required.
Spend the appropriate time to decide which outsourced relocation partner best satisfies your needs. Lab managers who keep their core concerns front of mind and evaluate potential partners based on a prioritized consideration set make the most informed, confident decision.
STEP THREE Plan Next Steps
In preparation for launching your move, keep in mind industry specific quality system requirements, such as close-out calibrations and qualifications. Important logistics span beyond accessibility and floor plans, including various change control requirements, regulatory considerations, insurance issues, contractor schedules, warranties, and service contracts.
Review proposals of qualified lab relocation service partners against core evaluation criteria, then consult them with any outstanding questions. Once you have identified partners that fit your needs, conduct site walkthroughs either onsite or virtually.
During walkthrough meetings, discuss your lab layout, linear footage, pack density of bench and/or cabinet space, key measurements, and other information regarding large or atypical items. Also, be prepared to answer questions regarding elevators, doors, loading docks, building security, and potential staging areas. After you've gained confidence in your choice partner and established buy-in from key stakeholders, select a lab relocation company to execute your project.
At this point, you should verify your action plan with your partner and ensure everyone is on the same page. Clear guidance comes down to the details, and experienced partners offer thorough reviews, revisions, and recommendations. For example, relocation partners should help forecast costs of relocating chemicals and other volatile materials compared to replacing them once onsite. Managing hazardous materials, stored samples and items for disposal can result in unnecessary expenses or unplanned waste. Still, some supplies are irreplaceable and must accompany your move despite the added effort and cost to move them.
Be sure to allow ample time to schedule these pre-move services and to involve any OEMs or ISPs in advance that require involvement at this stage per contractual terms and conditions. Failure to plan appropriately can lead to unintended agreement cancellations and unplanned costs.
STEP FOUR Making the Move
Once your project begins, your partner starts by decommissioning and packaging specified lab equipment. With your original lab site packed, vehicles are then loaded for transport as per the move plan. Experience with sensitive analytical equipment comes in handy during this phase to ensure instruments are handled accordingly. As this task reaches completion, coordinate with your partner to ensure all relocation related waste is disposed from the site.
Upon arrival at the destination site, your relocation partner unloads and unpacks your freight. For many projects, the Chain of Custody is then complete. Comprehensive service partners go beyond this step to offer support through lab set up, too.
As items are unpacked, partners help place instrumentation on the bench under direction of your site supervisor. As part of the commitment included in a full-service scope of work, partners start up items requiring power, especially at-temp chambers, by plugging them in during this phase or taking other necessary steps. For example, when partnering with comprehensive lab relocation partners, many projects can leverage continued support to get everything up and running from select equipment to entire facilities.
STEP FIVE Recommission Facility and/or Equipment
At this point, your relocation partner conducts post-move reassembly and reactivation. Then they, or another ISP, performs post-move services including certifications or qualifications if requested. Full-service partners can also conduct and/or coordinate details for calibrations, IQ/OQ/PQ, validations, and more.
STEP SIX Project Wrap Up
To close out final tasks, your partner removes waste generated during unpacking. Their equipment is crated once again and removed from the site, leaving your lab ready to ramp up and get running.
Your lab move does not need to be a strenuous and taxing process. By selecting an experienced partner that can anticipate your needs, your project is one step closer to success. No matter the size or scale of your relocations project, Pace® Technical Field Services team is here to offer support.
Planning an upcoming laboratory relocation? Start a conversation with our team.