FDA Submissions Using eCTD Formatting: Structural Overview & Common Hurdles

Antony Kaprielian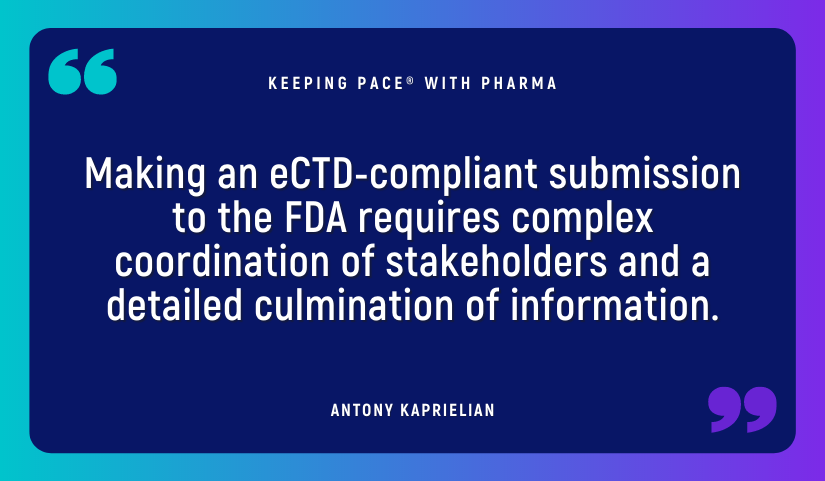 Making an eCTD-compliant submission to the FDA requires complex coordination of stakeholders and a detailed culmination of information. Translating years of product information must be done in a way that provides the necessary information to FDA and frame it into the correct formatting for review; a task often requiring seasoned support.
Avoid technical issues preventing or delaying FDA approval by clearly understanding the major challenges and components that come with using the electronic common technical document (eCTD). Before jumping into the details, let's first clarify the applications this submission type pertains to and recall the modules within the eCTD structure.
When does this apply?
Currently, the following US FDA submission types require eCTD formatting:
New drug applications (NDA)
Abbreviated NDAs (ANDA)

Biologics Licensing Applications (BLA)

Commercial Investigational New Drug (IND) Applications (for products that are intended to be distributed commercially)

Fast Track Designation (FTD) and Breakthrough Therapy Designation (BTD)

All subsequent submissions to these types of applications, including amendments, supplements, and reports, even if the original submission was filed before the requirements went into effect
Master files, such as Drug Master File (DMF), which are considered as submissions to an IND, an NDA, an ANDA, or a BLA
Expectation Overview – eCTD Structure
Module 1 – Regional administrative information (Not part of the CTD)
All administrative forms, communications, disclosures, requests, labeling, investigational plans, and other high-level information related to the application.
This is the only region-specific module in the eCTD; for submissions to other regulatory agencies outside the US, the organization of this module may differ slightly in some areas.
Module 2 – Quality overall summary, Non-clinical overview, Non-clinical summary, Clinical overview, Clinical summary
All summaries of data, studies, and methods provided in the submission. This module is divided into subparts for module 3, module 4, and module 5. The summary content for modules 4 and 5 is further divided into subparts for a written summary and tabulated overview.
Module 3 – Quality
All information related to the chemistry, manufacturing, and control (CMC) related to the drug. This module is subdivided into subparts for the drug substance (active moiety/ingredient) and the drug product.
It is crucial to include all necessary documents without missing information, including detailed steps for synthesis, packaging, manufacturing, stability, etc.
Module 4 – Non-clinical study reports
All nonclinical study reports and data related to the application. Subparts are specified for pharmacology, pharmacokinetics, and toxicology.

All studies are formatted as study tagging files (STFs).
Module 5 – Clinical study reports
All information related to clinical studies, data, clinicians, and processes. Like module 4, all studies are formatted as study tagging files (STFs) and can also include standardized dataset files.
For a full breakdown of all headings contained in the eCTD, please refer to the comprehensive table of contents headings and hierarchy document. Additional detailed guides are provided by the FDA as eCTD resources on their website. While guidance documents from the source are a fantastic starting point, our team has learned through direct experience that other obstacles exist which cannot be overlooked.
Common eCTD Submission Challenges
At its core, the most common challenges with electronic submissions stem from providing the necessary information to FDA. While teams focus on pulling together the documents that need to be included, finding a balance between satisfying requirements, and developing well-formatted documents can inadvertently fall by the wayside. Our experienced staff can deliver crucial support managing the submission, reviewing content for gaps or errors, and pre-validating submissions using the same tools as the FDA.
Each FDA review division has a specific set of preferences for document requirements, deadlines, and formatting. Three reasons submissions tend to be set back are:
Validation Challenges

Determining The Need for Datasets

Study Tagging Files
Validation Challenges
Validation challenges, which can lead to immediate rejection, are often highly detail-oriented in nature. If a document is missing, unoptimized, or corrupted, republishing it is dependent on one's ability and access to the resources available. The best way to avoid these obstacles is to mirror the FDA's internal practices, more specifically, by using the same software (eValidator) for a 1:1, up-to-date comparison of the file checks to expect from regulators. This software, paired with Lorenz Docubridge, is how Pace® mitigates validation risks for our clients.
Datasets
Showcasing study reports in your application builds the case for the product submission. Electronic datasets associated with specific studies are required for some eCTD filings. For example, when electronic datasets for certain toxicology studies are lacking, the resulting validation error can prevent the application from going to the review division. These datasets are usually a bundle of multiple files, and require extra consideration for tags, completeness, and mapping. Validation errors can prevent submissions from even being sent, which puts the submission at risk for delays and possibly missed deadlines. Given the set timeline given to deliver this information, developers, especially those located in vastly different time zones, must remain vigilant for this feedback to minimize time constraints.
Study Tagging Files
Study tagging files is mandatory for certain nodes of the eCTD, as well as for most nonclinical and clinical study reports included in a submission. Without this information, regulators could issue a validation error, which would make the process longer and more difficult for reviewers – who should have the easiest time possible reviewing your submission.
Apply the advice from the sections above and make sure there are no stones left unturned to create a strong submission application. Painting a clear picture of your product requires understanding your audience, and with so many pathways a submission may take within the FDA, partnering with experts to craft this story makes it easier for everyone involved.
Calling In Reinforcements
If the steps above appear beyond your skillset, or there simply is no capacity to get it done right, it may be a sign to bring in additional support. Contracting regulatory affairs professionals can be well worth the investment to guarantee your program stays on track and makes it through this pivotal stage.
When identifying potential partners, be sure to evaluate their available scope, their track record, and their approach. Partners who offer an international scope including countries beyond the U.S., such as Europe, India, and Asia, provide value beyond just an initial eCTD submission to include global expansion opportunities, too. Additionally, a proven track record should feature their first-time submission success to gauge their ability to execute their promises. Finally, when working with a service-driven organization – their priority should be on you, the client. This partnership is a long application process requiring close, regular communication, and cultivating strong relationships offers better product understanding through a highly iterative course.
Biopharma Global, a division of Pace® Life Sciences, is here to offer comprehensive support on using the eCTD format to submit applications, amendments, supplements, and study reports to the FDA. Our regulatory team has over a decade of experience with interacting with the FDA for regulatory affairs related matters of medical products. Our full-service FDA/EMA regulatory affairs team specializes in expedited regulatory pathway designations to treat rare diseases or those with unmet medical needs. We perform various high-level assessments and designations – e.g., Orphan Drug, Breakthrough Therapy, Fast Track, Rare Pediatric – and we provide complete in-house IND capabilities (author, review, and submit with eCTD publishing). Additionally, we offer regulatory strategy development plans, and FDA/EMA meeting assistance.
For greater detail on using the eCTD format, please download our white paper, "eCTD-Compliant Publishing & Submissions" or reach out to our team to learn more.